Featured rooms
Single Room Standard with Air Conditioning
Double Room Standard with Air Conditioning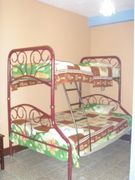 Twin Room Standard with Air Conditioning
Experience

Discover Hotel Eloy Alfaro

Situated in Guayaquil, 700 m from the shopping mall Malecón 2000 and just 2 blocks from Guayas river, the hotel Eloy Alfaro offer complimentary Wi-Fi. The José Joaquin de Olmedo International Airport is a 15-minute ride from the property.

This accommodation has computers for its guests and the front desk offers laundry services and shuttle services for an extra charge.

All rooms are equipped with air conditioning, TV with cable channels and private bathroom with hot water.

The hotel serves snacks and beverages for an additional cost. There are several restaurants and supermarkets within the surroundings.

Hotel Eloy Alfaro is located at a 10-minute drive from Centenario Park and the lighthouse Cerro Santa Ana and the Malecón Simón Bolviar is 1,5 km away.
Amenities at Hotel Eloy Alfaro
Air Conditioning
Towels / Linens (Surcharge)
FrontDesk (limited schedule)
No Parking Available
No Pets Allowed
Airport Shuttle with Additional Cost
Computers for Guests' Use / Cybercafé
Laundry Service with Additional Cost
FREE WI-FI
Room Service
Hotel Eloy Alfaro
CAPITAN NAJERA 304 Y ELOY ALFARO
Guaiaquil